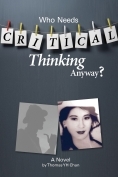 Who Needs Critical Thinking Anyway?
作者

Thomas YH Chan

語言

英文

出版社

紅出版

分類

國際書號

9789888380732

出版日期

出版日期

2016-05-23

內文

黑白/彩圖

有存貨

是
Sam, working as a trainee waiter in a small Italian restaurant near the West End of London, was one day fooled by a bohemian sort of man with a bad sort of logic that led to his dismissal by the head waitress. Feeling lost and trotting along Regent Street he bumped into his girl friend Amy who had just been through a similar scenario, and that made them both laugh away their 'misfortune' to start afresh. Sam decided to take a critical thinking course run by a certain Professor Panggloss, a name that rang a bell for him, recalling Voltaire's famous novel Candide, and the course turned out to be very useful, albeit puzzling at times, which therefore troubled Sam quite a lot, so much so that he had to share his critical thinking problems with Amy, even when she was already away from the UK, holidaying at her aunt's invitation in Hong Kong.
The lovers, separated by at least six thousand miles, carried on their intimate communication using state-of-the-art IT, frequently disturbing each other on account of a considerable difference in time, each waking up the other in the small hours! Amy, obviously enjoying herself in Hong Kong and meeting up with old friends and going to scenic places, did not forget her love's academic problems. Indeed, she went out of her way to find answers for his puzzles, even going so far as to start a really lengthy discussion with her friends and new acquaintances in what is Hong Kong's most popular hideout, the Amigo Café in Happy Valley. Back in London Sam strangely enough loitered around and ended up in front of what he perceived as a Sherlock Holmes Shop where he was greeted by a very friendly and lovely young employee who processed his application for membership to a strange sort of society, the Sherlockesque Detective Clique. At the next clique meeting that Sam participated in he found delight and insight for his appreciation of critical thinking, which he at once told Amy about, on the phone of course and again in the small hours!
Home at last, Amy told Sam about her lengthy and very revealing discussion with her friends in the Chinese Restaurant in Hong Kong's International Airport. Sam found that very illuminating and both then appreciated critical thinking so much more than before. In the West End, surprisingly, Sam saw that bohemian-looking cheater and challenged him to pay for the meal that he consumed in that Italian Restaurant, upon which this man produced a dagger instead of a bank note. Recalling the last of the Thirty-six Stratagems Sam and Amy let that hooligan go, reserving for themselves the peace of mind, so that all's well should end well.
目錄

Getting the Boot for such a Trivial Failing! 5
It is not the end of the world, is it? 8
Prof. Pangloss's Critical thinking Course 11
Friends, Romans, Countrymen, Lend me Your Ears! 15
Socrates' Acceptance of Death Sentence in Plato's Apology 22
Seeing Amy Off at Terminal 5 24
Deduction, Induction, Validity and Truth – Can These be Your Favourite Things? 29
Who Needs Critical Thinking Anyway? 30
Bumping into Two Acquaintances in the IFC Mall 36
The Next Deluge of Critical Thinking Handouts 42
A Short Walk Down Shaftesbury Avenue 45
Mr. Sherlock Holmes, I presume? 51
What's the Use of Formalising Arguments Or Mr. Copi's Monumental Book? 55
Amy in Session with Frieda, Paul and Mary on Critical Thinking 57
Amy's Airport Session with Frieda, Paul and Mary on Critical Thinking 63
The Airport Session Took Three Hours Instead of 30 Minutes! 72
Amy's Back 76
When the Sword is Unmistakably Mightier Than the Word 78
All's Well That Ends Well 82